Ethiopia tour blog 2019
The blog for our tour to Ethiopia in April 2019. We'll be updating it when we can!
15th April 2019
We've spent the day with the pupils at St George's School, just round the corner from our hotel. We divided into 6 groups and went into the 6 different year groups, teaching songs and playing musical games. We had a tasty school lunch and then performed a concert, singing some of our pieces set to secular words, then leading the different groups in a song each and finishing with a whole school performance of One World, One Voice, One Heart Beating led by Rachel Waite. The classes were big but the children very responsive and the language of music allowed us to communicate with each other. We're very grateful to Nicky Williams, Director of Education there for giving us this great opportunity.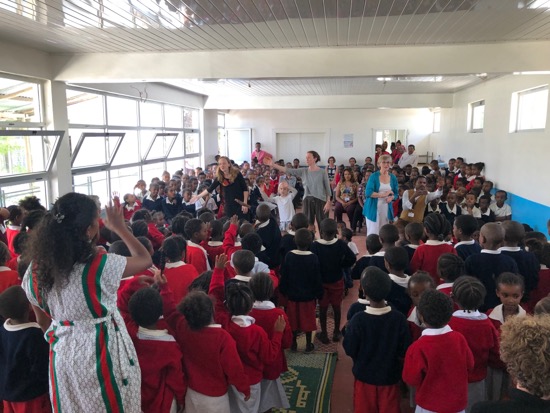 14th April 2019
We head into town to visit the main sites. In three separate groups we visit Fasil Ghebbi, the Royal Enclosure, Debre Berhan Selassie and Fasiladas' Baths: World Heritage Castles, a Church protected by swarms of bees with biblical stories in frescoes on its ceilings, and King Fasil's summer house, whose pool is visited at Epiphany by tens of thousands of pilgrims. We join to sing in the pool at the end of a long hot day before retiring to a wonderful meal at Four Sisters Restaurant.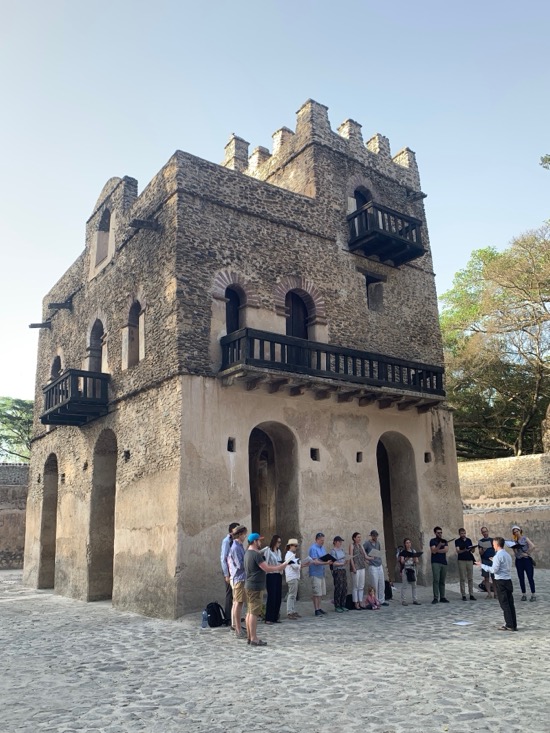 13th April 2019
After a morning exploring the market or visiting St George's church or relaxing in the hotel we take the short flight to Gonder. We recover in the afternoon, in the hotel pool or a bar in town.
12th April 2019
In the morning half of the group travel to Yemrehanna Kristos monastery, enjoying more views from the bus and then a great walk up to this church in a cave. We arrive back to rest before a concert in the architecturally stunning Ben Abeba restaurant where we keep singing despite strong winds.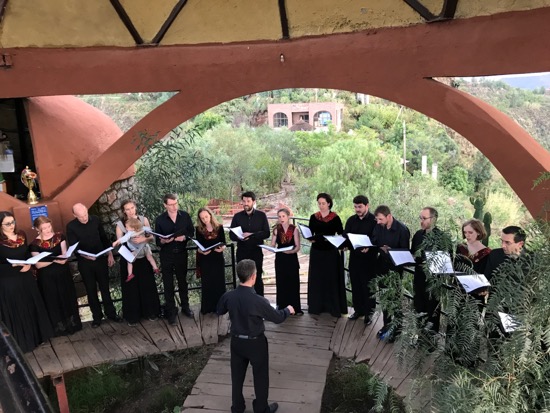 11th April 2019
A day of exploring the rock- hewn churches in Lalibela. We are lucky to catch some chanting at some of them. While we had hoped to be allowed to sing in them, we don't want to cause any offence, and in any case it is great to hear the music that is used in them every day rather than our pieces.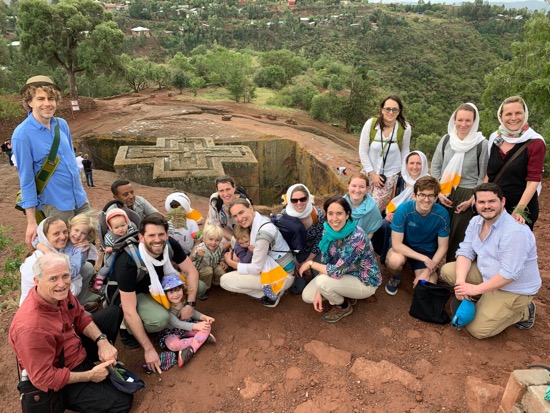 10th April 2019
We left first thing for the airport, for our flight to Lalibela. After a short flight and a windy bus ride through the countryside, spotting birds, animals and houses being built in stunning scenery we arrived at Maribela Hotel, our home for the next few days. We are warmly welcomed with juice and petals on the floor, and go off to our rooms to relax for the rest of the day. Sadly a few more of us have come down with a stomach bug so we take things gently.
9th April 2019
Tonight's concert in the City Hall was really special. After a day spent doing a variety of activities ranging from wandering through Africa's largest market in Mercato, to enjoying the geothermal pools at the Hilton, Ishirini joined Polyphonic Voices and Ethiopia Peace choir in a one-of-a-kind event. The venue was packed out and the audience warmly welcomed us to the stage, first individually and then jointly. Our amazing baritone soloist, Adrian Collister, was sadly ill, but our stand-ins Tom Allwood and Gareth Moss stepped effortlessly into his shoes. We are all buzzing - proud and grateful to have been a part of this truly visionary occasion. Pictures coming soon!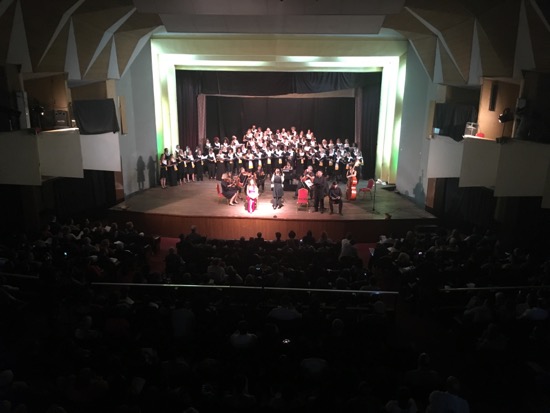 8th April 2019
We headed straight to the Ethnological Museum for our concert. Part of the Institute of Ethiopian Studies, the building is Haile Selassie's former palace - we performed in the Empress' bedroom to a small but appreciative audience. The quartet for the Britten Hymn to the Virgin needed to be separate from the rest of the choir so removed themselves to the bathroom! After the concert we enjoyed visiting the museum before heading to the City Hall to meet Polyphonic Voices, Peace Choir and their conductor Renata Dworak Berlin for the first time. The concert tomorrow is very unusual for various reasons and has been a massive undertaking for Renata and her team. We shared dinner with the Peace Choir and enjoyed hearing the piece coming together. Looking forward to the performance tomorrow!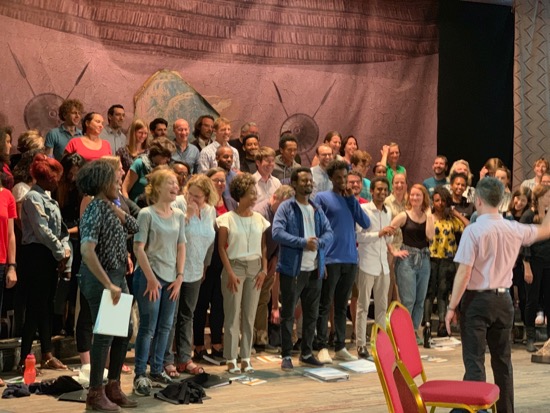 7th April 2019
Today we had a relaxed start and then rehearsal in the hotel. After a break for lunch we headed to Holy Trinity Cathedral, the second most religious place in Ethiopia as well as the site of Sylvia Pankhurst's grave. St Matthews was just round the corner, and after a brief rehearsal in situ we gave our Christus Vincit concert. The audience were very appreciative. One audience member said "This is so unusual for us, we soaked it up. I thought, this is what it will sound like in heaven!".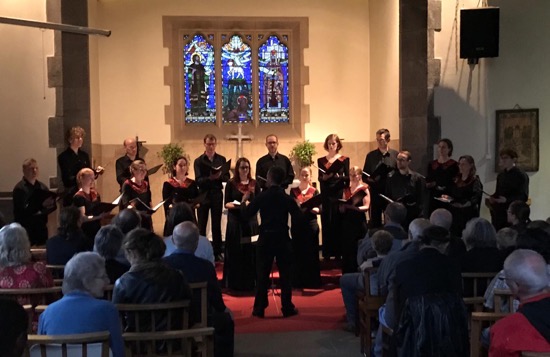 (©️ Gareth Moss)
6th April 2019
We're here in Addis Ababa! All but 2 of us enjoyed a barbecue in the beautiful garden of Freddie and Zoe Carver, our original link to Ethiopia and a great help in our preparations. Looking forward to singing and our first concert tomorrow.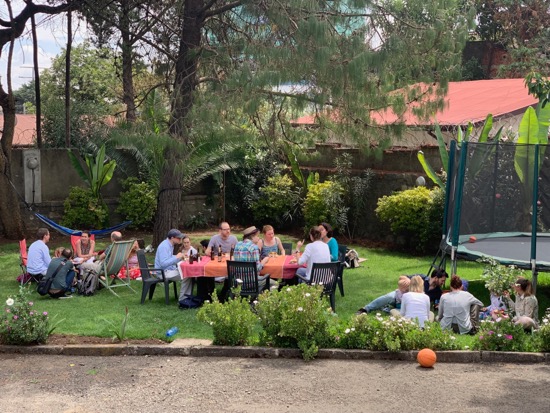 4th April 2019
Bags packed... arrangements in place... we're on our way! Very much looking forward to the tour.
17th Feb 2019
Great concert in Teddington! Feels like the tour is really happening now. Thanks to the Jacobs family, all the staff at the churches and our great audience!