Nepal tour blog 2016
4th April: Village school/Green Pastures Hospital
Our last day together as a choir! We made our way to the nearby village school where 15 children and three teachers had come into school during their holidays to hear us. It was a very basic school with minimal resources. Ros and Alice did some great songs with them in the heat of the sun and Jeremy got them conducting us sing Os Justi.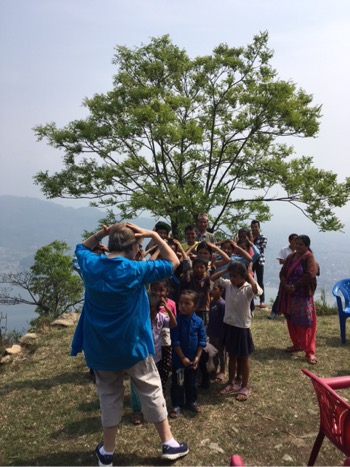 In the afternoon we took a bus back down the hill to Green Pastures hospital, the first missionary hospital established in Nepal with beautiful grounds. They specialise in patients with leprosy and spinal cord injuries; our concert was in the physiotherapy room surrounded by strange machines - our first decent acoustic! The audience of staff and patients responded to our music by singing a Nepali song - we'll have to learn it for our next visit!
3rd April: Free day in Pokhara
Ishwor took us on a 'jungle walk' down to the lake and put us on boats to get to the other side of the lake where we variously rode bikes, visited museums, shopped, organised our treks and chilled out in cafés.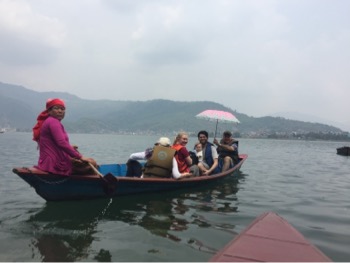 2nd April: Flight to Pokhara/World Peace Pagoda
It was a very short time in the air, but we had a good view of the mountains above the clouds. The air is noticeably cleaner, and there's a much more rural feel - we saw fields and cows on our drive from the airport. The road up to the hotel got less and less paved, bringing us finally to a wonderful view over Phewa Lake. After lunch we headed to the World Peace Pagoda, where Ishwor, the manager of Siddhartha Garden Ayurveda, had arranged for us to perform. It was a ten minute walk, but concert shoes were a mistake, particularly as we had to take them off in the pagoda anyway! It was the most amazing setting. Our audience came and went as we looked out over the foothills of the Annapurna range, finishing with Tavener's Lord Prayer sung while walking round the stupa.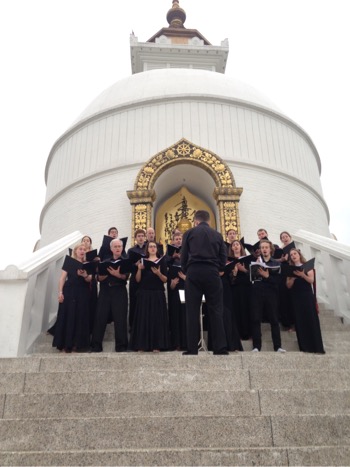 1st April: Boudhanath/German Embassy
We spent a calm few hours wandering round the stupa at Boudhanath, sadly missing its top, but still a fascinating place full of Buddhist culture and devotees.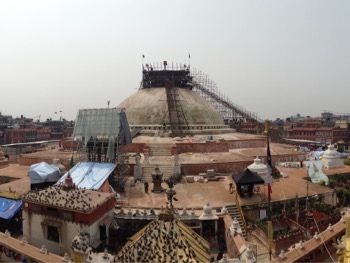 We then headed across town to the German Embassy for the evening's concert. After a rousing introduction from the Master Drummers of Bhaktapur in the Ambassador's beautiful gardens, there were speeches from the German Ambassador, Lochan Rijal from the music department and the Vice Chancellor of the university. We then had a chance to meet some of the audience who had been invited to the fundraising concert from various embassies and cultural and other organisations before more drumming. We presented our contribution to the fundraising effort (the $1800 raised in Teddington and Welwyn) and started our set with Prof Wegner's piece, where the two halves of the choir represented two human tanburas (drones) accompanying a bravura performance on the tabla by Abhaya Shrestha. We then continued with pieces by Mendelssohn, Bruckner, Dove, and Tavener, trying to make the best use of the unusual performance space with a number of different positions. The audience were very appreciative and there was a very supportive atmosphere towards the rebuilding project of the department. We really hope that people were inspired to support the department in their important work protecting and extending the musical heritage of the country.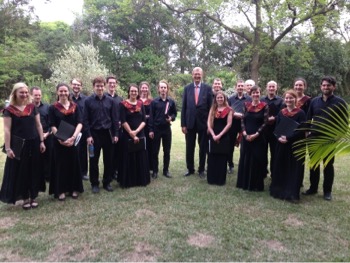 31st March: Hindu Vidyapeeth
We had an incredibly warm welcome from the students and staff at Hindu Vidyapeeth. The children were very excited to see us (maybe the approaching holidays helped too!), and there was a lot of enthusiastic singing and chatting as well as an extremely tasty daal bhat.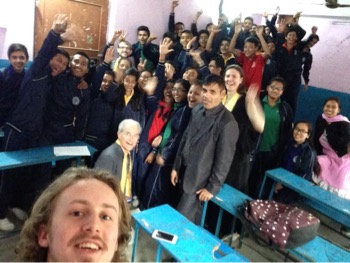 An unexpected downpour didn't dampen spirits and a new plan was quickly made. The concert started with some gorgeous dancing and singing from the children, followed by the Tagore arrangement which all the children had learnt, some of our repertoire on the theme of prayer, and finished off by a gospel medley which got everyone singing and dancing. The day was rounded off with a very tasty Spanish tapas meal.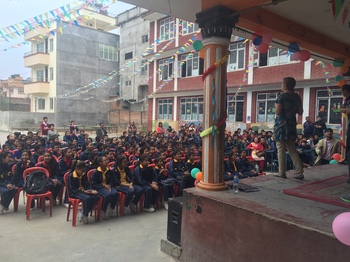 30th March: Bhaktapur
It's going to be difficult to sum this up in a short blog post. Bhaktapur is a totally captivating town, and you could spend weeks exploring it without discovering all its sights. We had a short time there but saw the rural location of the music department - still so beautiful in spite of its damaged buildings. We became human drones and learnt about Nepali classical music the best way possible - by singing a piece ourselves, led by our soloists, Buddha Lal and Abhay and the head of the department Lochan.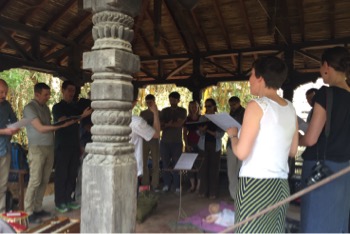 We had a tasty lunch overlooking Nayatapul square full of pagodas, temples, bells, goats. We had a brief tour taking in Potters' Square, the Royal Palace and a Buddhist monastery.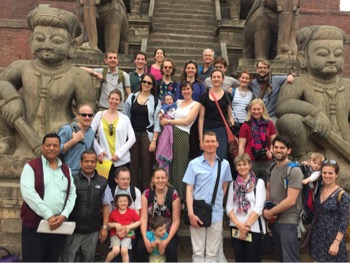 And we became members of the Dattatreya temple so that we could be eligible to sing dapha music as part of their ceremony. Women in beautiful costumes anointed us with tikkas, gave us flowers and rice before we heard the local choir sing several songs and then did our own version.
It was an amazing experience to feel part of the ceremony with so many onlookers and smiles. All made possible by the guiding and organising of the tireless Shamsher. An amazing day.
29th March: Exploring
A great day exploring the Durbar squares of Patan and Kathmandu and ending up with a very tasty meal in Thamel House Restaurant. We squeezed in a couple of hours of rehearsal too, as well as some time by the hotel pool!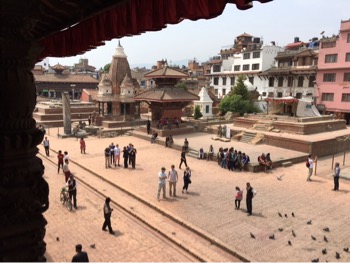 28th March: A choir comes together
By 6 pm we were all safely arrived, enjoying a tasty dinner at the Summit hotel, having taken a surprising variety of routes to get here (via Bangladesh, India, Turkey, Oman etc).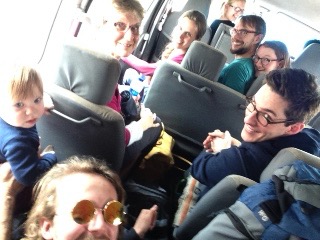 A freak thunder storm cleared the air, giving us great views of the Himalayas from the hotel.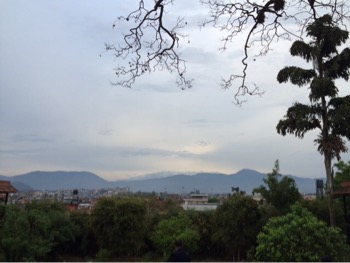 26th March: Almost ready to leave
Getting packed...
25th March: Schedule finalised
Thanks to a huge amount of organisation and kindness by friends and contacts in Nepal the schedule is finalised enough to share with the choir. We are looking forward to workshops at the university, singing in a temple, a concert at a school, the German Embassy and the World Peace pagoda, as well as visits to a school and hospital in Pokhara. Exciting!
22nd February: The journey begins...
Our pre-tour concert in Teddington went really well and it was great to meet the whole choir finally! Really grateful to Richard Widdess - through teaching us a single piece, he gave us an understanding of the history, language, religion and architecture of the place as well as the music, so our visit to Bhaktapur will now mean a lot more.
27th December: Dreaming up a theme
Our Christmas job is thinking of a theme for the music that we'll sing in Nepal. We decide on Prayer, thinking of the gorgeous prayer flags seen all over Nepal, and the beautiful music that it will allow us to sing.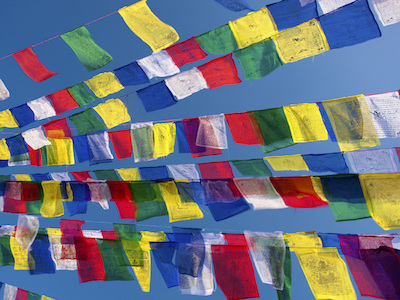 20th December: Green light
Excited to hear from Richard Widdess who has just visited Bhaktapur. He confirms that a tour will be possible so we inform the choir that it will be goin